Concert by the stars under the stars to round off an extraordinary week at CoartJazz 2022
Once again CoartJazz and the little hill-top village of Coaraze in the French Alpes-Maritimes have excelled as a nucleus of jazz par excellence. I feel privileged each year I have visited to be a small part of it – as I'm sure do all the others who attend to learn, play, socialise and share experiences. I wonder can it get any better, and it does.
This year (I have covered the didactic/scholastic experience in my previous post), the two concerts on Friday and Saturday night were absolute highlights. On the one hand the quartet of vibes maestro Laurent Sarrien, and then the scintillating line up of the week's 'profs' which we knew would be something really special.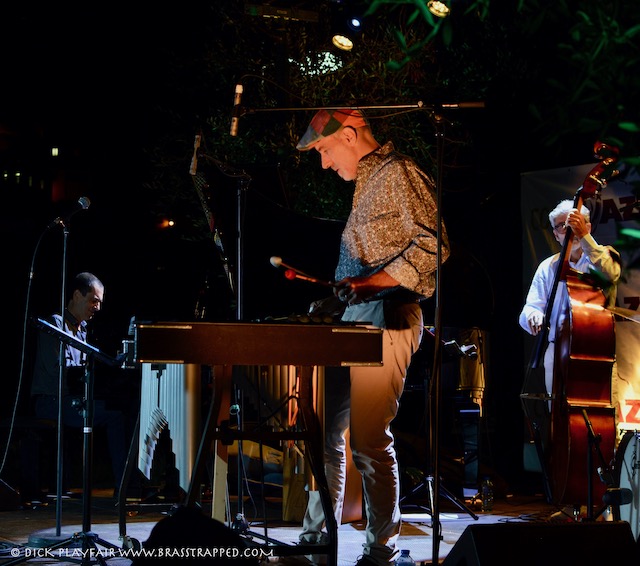 Vibes is new territory for me but this year I have seen Joe Locke and the Scottish National Jazz Orchestra in concert playing their interpretations of classic pop music (not Rosie's favourite night out incidentally) , and then Laurent Sarrien with his cool and sophisticated repertoire so suited for a balmy evening in the Nice hinterland under the stars with a line-up of Fred d'Oelsnitz, piano; Fabrice Britoni, contrabasse; and Yoann Serra, batterie. Great vibes! There we are, I'm a fan and must expand my listening. I had a lovely conversation with Laurent the following evening – a super guy, leading a superb quartet.
But the big one was bound to be the annual concert by the teachers, the 'intervenants', which always is very special in terms of atmosphere, and quality, and diversity in terms of the programme. And for the 60 or so 'stagiares' who formed the heart of that audience we have got to know them. They are now both heroes and friends. They have shared a little part of their knowledge and expertise so that we can be better at what we try to do. Both in the classroom and now on the stage they are the real stars.
Thank you in no particular order to Cyrille Aimée vocal and uke, Olivier Hutman piano, Michael Valeanu guitar, Alex Terrier saxes, Clovis Nicolas bass, Greg Hutchinson drums, and Minino Garay percussion.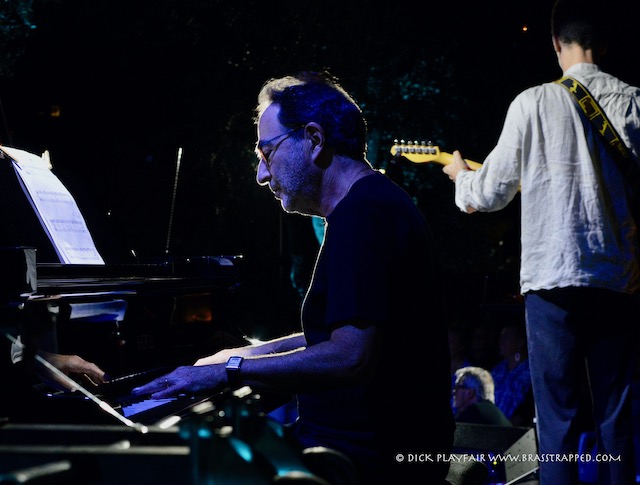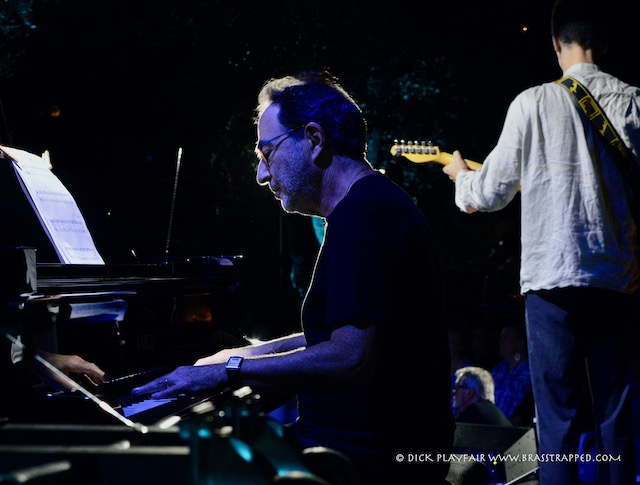 They treated us to a brilliant concert – among the gems were Pilote to open which was sort-of inevitable with Minino Garay having worked us hard on it all week, and then Move Your Feet followed by the Alex Terrier composition Oxun. Cyrille Aimeé joined the boys on stage for a brilliant If I Knew Then, followed by a slow La Javanaise which had some exceptional moments, not least Cyrille really giving it everything in the closing choruses.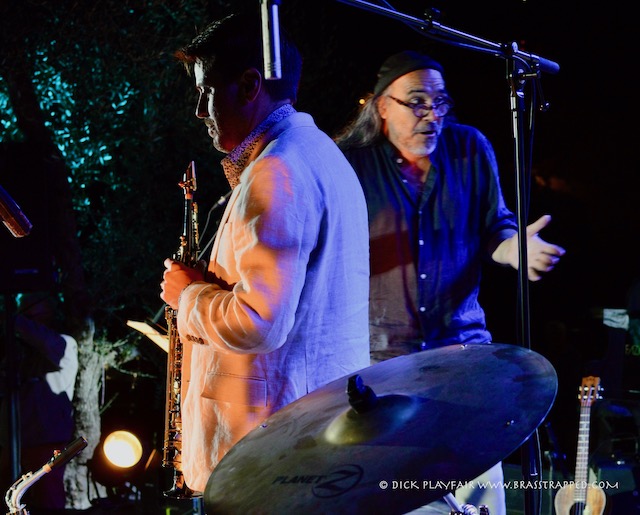 Casita kicked off with Michael Valeanu on guitar and Cyrille on her uke and, if I can read my scribbles, Michael with his custom Telecaster, gave us a great solo that might have been as fitting at Glastonbury as at Coaraze. Olivier Hutman's take on rhythm changes Fast Changes really ratcheted up the tempo but with Greg's solo taking it down to almost nothing (the quietest Greg had been all week!!)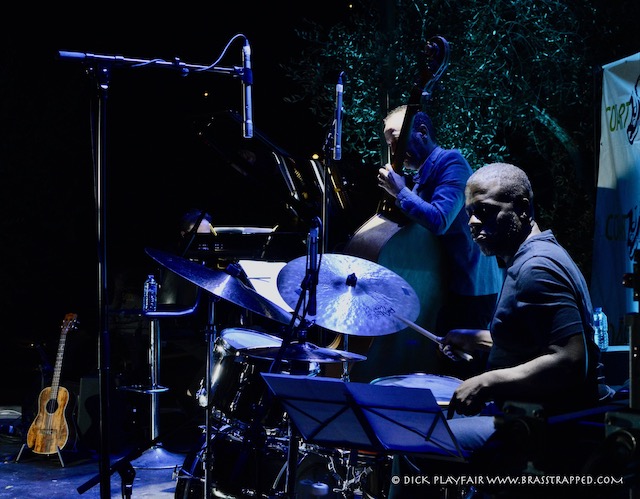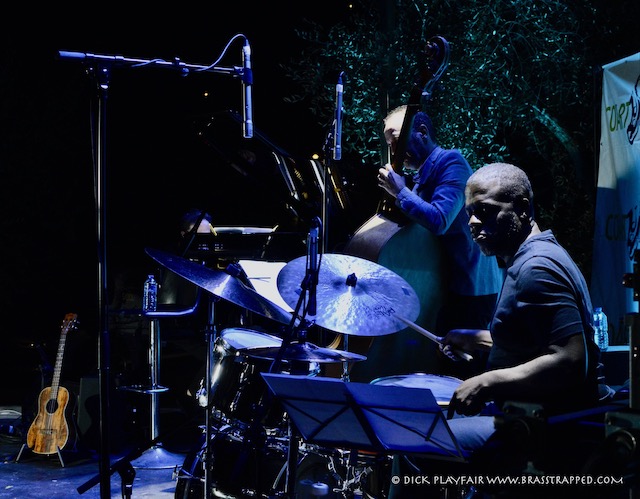 There was a drum battle between Greg and Minino, Greg encouraging the audience to spur Minino on to even greater feats, and the fabulous Clovis Nicolas composition The 5.30pm Dive Bar Rendezvous which had been a huge favourite for everyone on the course.  What had been an outstanding programme entered the closing straight with Michael's guitar and Cyrille's vocal I'll Be Seeing You In All The Old Familiar Places (at its end Greg in the wings overheard enjoying the vocal coda "Lean on it, lean on it, I like that." And to close what for me was definitely the anthem for the week the wonderful Valeanu/Aimée composition Each Day.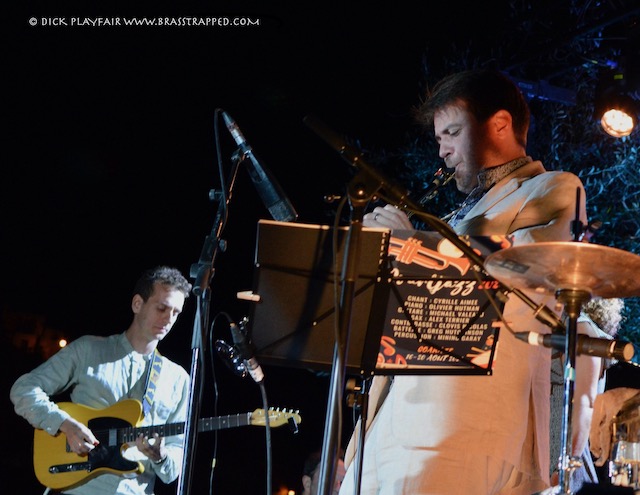 To round off proceedings we were treated to this Coaraze all star line-up's interpretation of Oye Como Va – a wonderful, up-tempo surprise to conclude an extraordinary week.
Wow! There were tremendous solos throughout from the whole band, fireworks, thrills, colour, poignancy – not least in Magali's introduction and dedication of the concert to the memory of Tina May, one of Britain's best jazz singers and the CoartJazz vocal coach in 2016.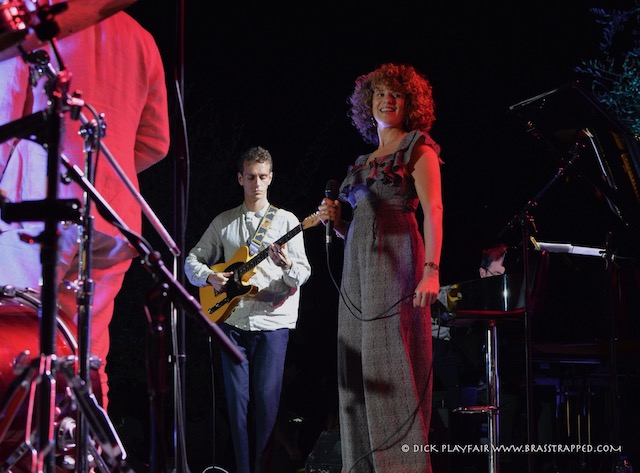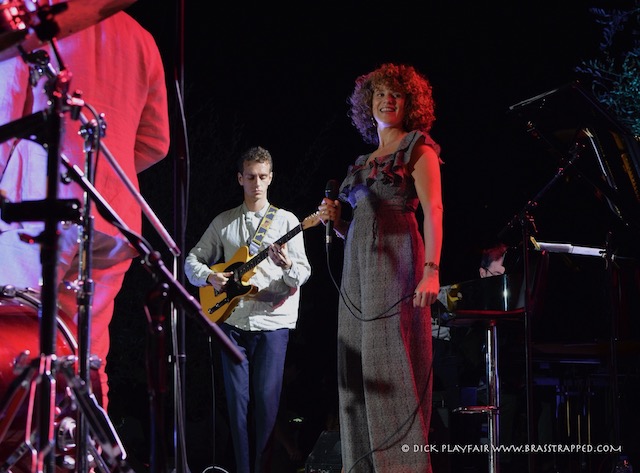 This poem Dance by Paul Hayward, which has become one of my favourites says as much to me about jazz as it does about life, and a suitable way to sum up what was a fantastic week:
Open your heart to happiness.
Let every pore absorb light.
Swim in the joy of the here and now,
And cast off the darkness of night.
Walk in the summer of sunshine.
Fly in the blueness of sky.
Know possibilities are boundless.
Understand that nothing can die.

Step from the shadows of torment.
Sing 'til your throat gets too sore.
Smile for as long as the day is,
And laugh just a little bit more.

Breathe slowly and deeply and listen.
Give all your ideas a chance.
Let the sun beat down on your goodness,
And kick off your shoes and dance.
I'm strictly renowned for being a crap dancer (now I just don't bother), but since Alex and Minino's classes who knows what the future holds!
Huge thanks especially to Jean-Marie, Magali, Joe, Karine, and their team of helpers and volunteers for making the week so special, again.
Also thanks to the Mairie at Coaraze, Stefanie and her staff at Lo Castel, the food truck, and event sponsors and supporters Coaraze, Department des Alpes Maritimes, Pianos Gugliemi, DuShow, Nouvellevague.com, Credit Agricole, Timci, Tamo and Intermarché.
---