'Each Day' – definitely the anthem of CoartJazz 2022 for me
I thought I would struggle to find an original theme for a review of Coartjazz this year – for me it's my third excursion there and here's hoping it's not the last. I have used all the superlatives before and I'm going to have to use them all again as it was – once again – really outstanding. As for a theme it was staring me right in the face, and in my ears, and at the very start of this year's treasured Coartjazz 'livret'.
Each Day
With apologies to Cyrille and Michael for the change to the lyric of their beautiful song for me the magic spell that every edition of CoartJazz weaves is truly that "each day brings something new, that lights up your way," and especially when they played their song at the closing concert. That really was another 2021 Le Bonheur moment.
There were so many highs – meeting old friends and making new ones, thinking in and spilling out French for a week even though some of the 'stagiaires' wanted to polish their English in conversation and that was fun too.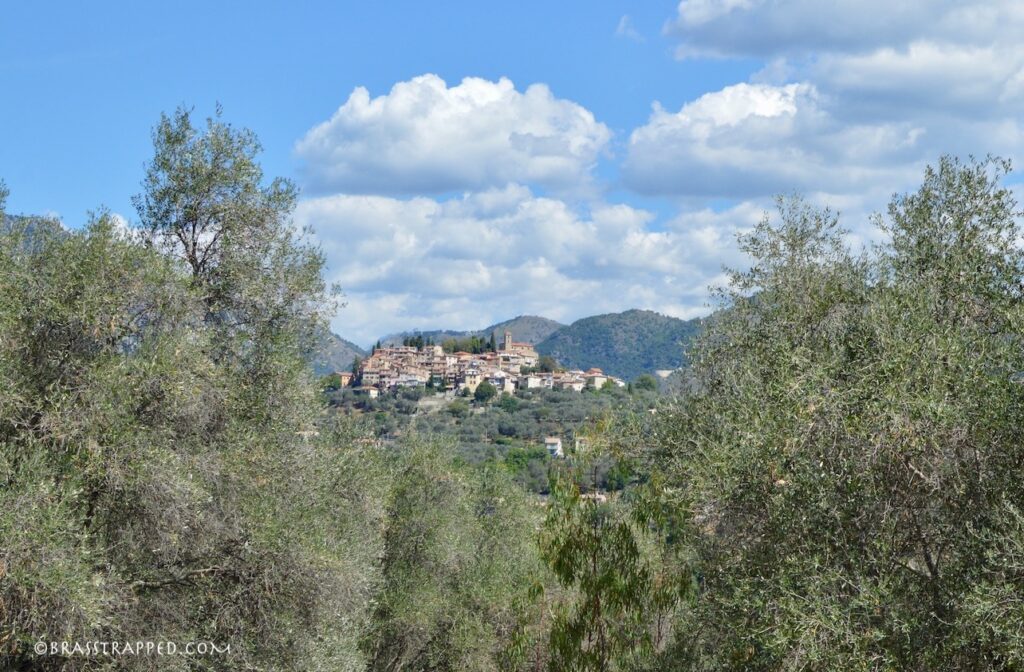 And as for jazz being multi-generational there were so many jazz-committed youngsters attending, not mentioning any names, but singing, piano and guitar especially. Jazz definitely has a bright future given the amazing array of youthful talent in the village for the week. Coartjazz is certainly fulfilling its educational objective!
So, what made each day special for me?
Day 1: Tuesday – mardi
Met Alex Terrier, sax guru, and the rest of the B group soufflants. Some very simple rhythmic exercises that make me feel totally dis-coordinated and rhythmically inept. Note: must practice/try harder.
We then had a class with percussion wizard Minino Garay – wizard because I'm sure there is a part in a future Harry Potter for him. Minino introduced us to clavé. I know I will never be Sheila E because clavé entails being able to direct your feet and hands in time independently of each other and probably sing simultaneously too (and for a few other obvious reasons). This was one of those classes where you wanted to be very small, and could sit at the back and hide. But Minino is the sort of teacher who takes no prisoners – but in a charming way!
And Minino then led our afternoon combo class too and more clavé. Have I come to the right place I thought?
Day 2: Wednesday – mercredi
More rhythm warm-ups with Alex (why can I not do this?). Then more clavé with Minino (why can I not do this either?). And then in the afternoon a combo session with Clovis Nicolas and Greg Hutchinson. Hutch said: "you can call me Hutch," and if Clovis had then said: "vous pouvez m'appeller Starsky" that would have been the joke of the week. But he didn't. It was a brilliant session though. Hutch has an approach like an express train, and not many adjectives. Well just one, but with it comes great positivity which is important. When starting a solo he didn't want any of that Creepin' In (to name-check a rather good tune by Horace Silver) but be more like slamming the door wide open and shouting: "Here the fuck I am!!". We got to play Clovis's superb tune from the livret too under his direction, The 5.30pm Dive Bar Rendezvous, which is basically a blues about going for a drink after work, but with a really clever head and a send-off I Iove. Ah, du bon jazz! Clovis genius.
Day 3: Thursday – jeudi
Morning, more rhythm échauffement (still proving tricky), but there's interesting stuff too like working on Satin Doll with triplets (triolets), and Blue Monk and other fun exercises. Then Minino – more clavé with singing, and harmony, and clapping. This could possibly just be starting to sink in. And then the afternoon combo session with Cyrille Aimée.
This was seriously something else – I nearly had to resort to Hutch's adjective. Cyrille is from the same "let's go do it!" school as Hutch, she hid our charts and told us to rely on head, heart and ears. This session really was Something To Live For (nice song by the Clark Terry Septet on What Makes Sammy Swing btw). And her final ace was introducing us to her rendition of Love for Sale live at Smalls (to a New Orleans beat rather than the regular latin/swing/latin format) with Roy Hargrove on trumpet and Joel Frahm on alto. Check it out on Youtube and be blown away! I was.
I sang a funky version of Peter Cincotti's Hangover City at the jam session in the evening. Hangover in French is 'gueule de bois' or 'woodface'. I like that. Woodface Blues.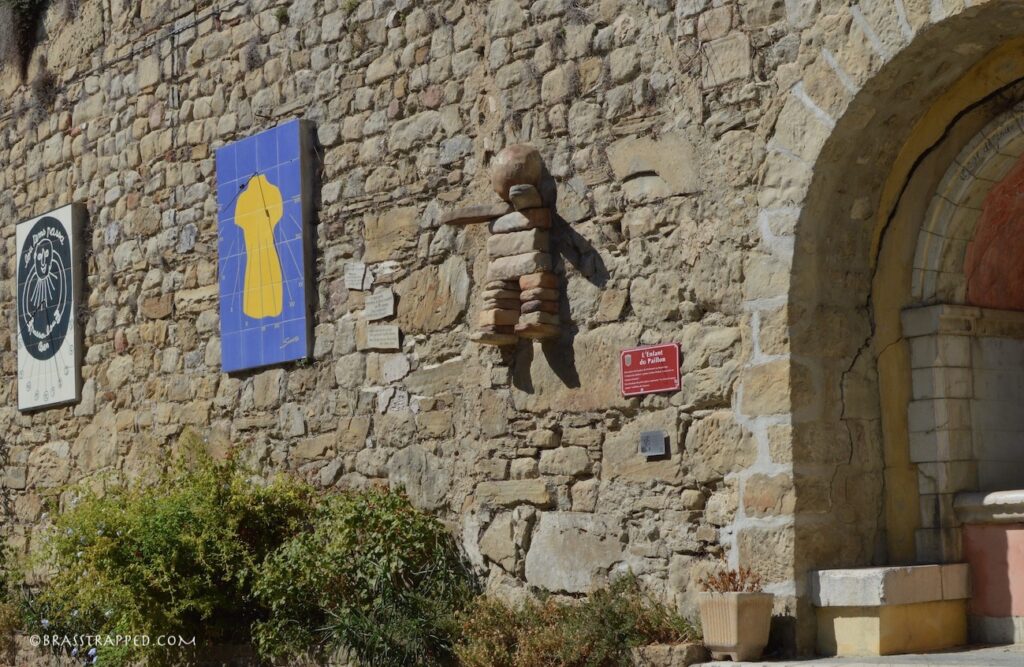 Day 4: Friday – vendredi
Morning session with Alex. I'm wondering how much more of this droit – gauche – droit – gauche – triolet, triolet, triolet, noir I can digest. But then it actually clicks, and I want to run out into the sunshine beating down on the Place des Cadrans shouting Eureka – well possibly not naked like Archimedes. Then, after some bluesy harmony there's more Minino. For the entire week he works with us on one song, Pilote, and I know why as it's vachement compliqué. But it's a good approach rather than flitting from one thing to the next. Alex had said earlier in the week: "c'est meilleur d'aller au profondeur d'une idée que rester à la surface de tout," and this was sure proof of that.
Lunch comme d'habitude at Stephanie's wonderful restaurant, Lo Castel, at the very top of the village with its stunning views, daily Mediterranean specialities, fabulous desserts and local beer. The speciality for Friday was twice-fried (in fat) chips, delicious sausages and lettuce which we nicknamed Salade Belgique! Delicious! Over lunch I extended my quest to learn more names of insects in French. I'm good for bee (abeille), spider (araignée), fly (mouche), ladybird (coccinelle) and tick (tick – obvious really). However, all my life I have been saying wasp wrong. It's actually pronounced 'gepp' and not 'goo-ep' as I was taught aeons ago. Then we talk about climate change and how all the wasps (there are none at Lo Castel) are flying north to the UK where there will be a plague of them in September. Ah, gep-xit (worst pun of the week so far). High fives all round!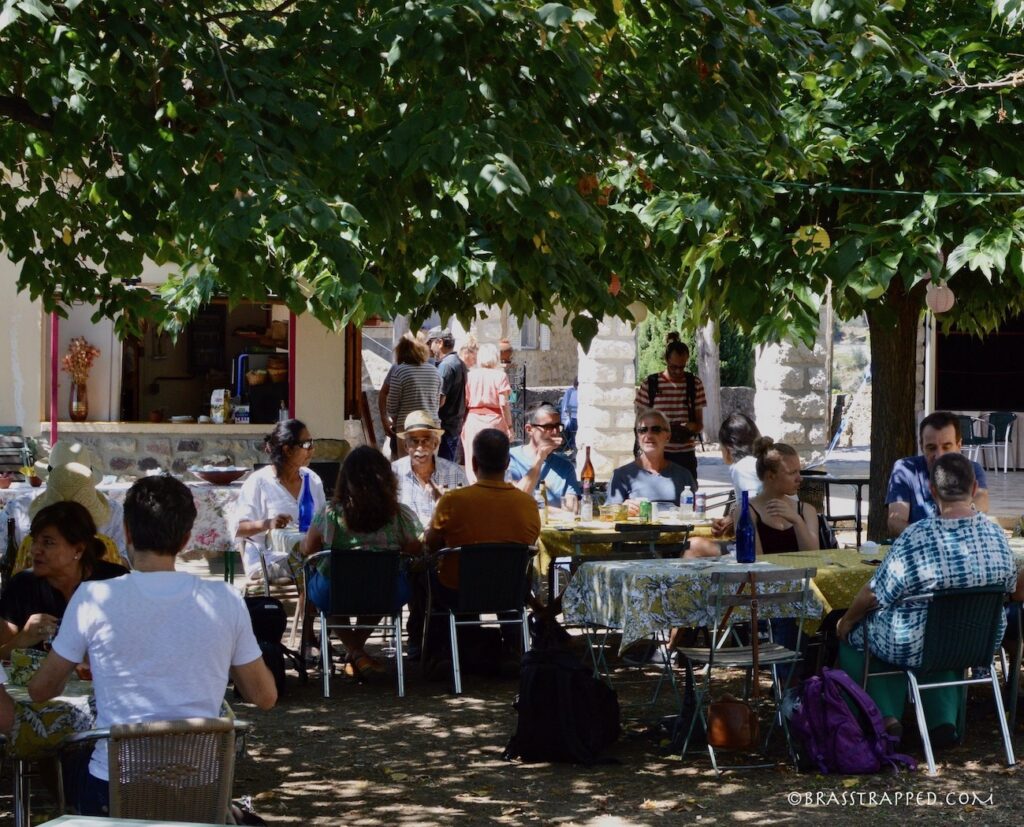 Friday afternoon the combo meets under the attentive direction of master pianist Olivier Hutman who gives us free-rein to try new things. A propos my rash suggestion we play How Deep Is The Ocean up tempo (well around 220 bpm) but with the usual ballad intro and outro with vocals at around 80 bpm. Olivier gives Piero on drums just two bars of break at each end to speed us up and slow us down. I think he could kill me.
Day 5: Saturday – samedi
And then it's Saturday, our last day.  I sail through the droit-gauche-triolet stuff with Alex and the rest of the group (eureka again!) but 'mes cervelles sont dans la poubelle' when it comes to playing the blues wtf!  Then more Manino who is kind to us and, as a special treat, a couple (who appear to be late-comers to the class but are very good at the clavé and clapping) dance the Argentine Tango for us which is superb, although the irreverent words of Tom Lehrer jump straight into my head: "Set me on fire, I'm filled with desire, and that's why I perspire when we tango." Well it is 30 degrees outside.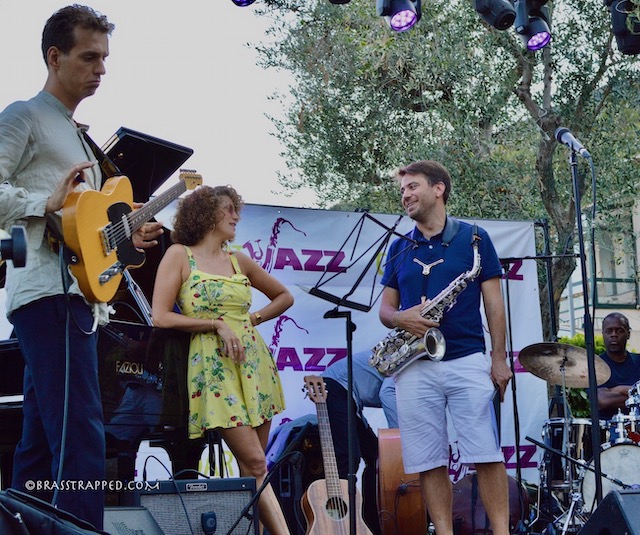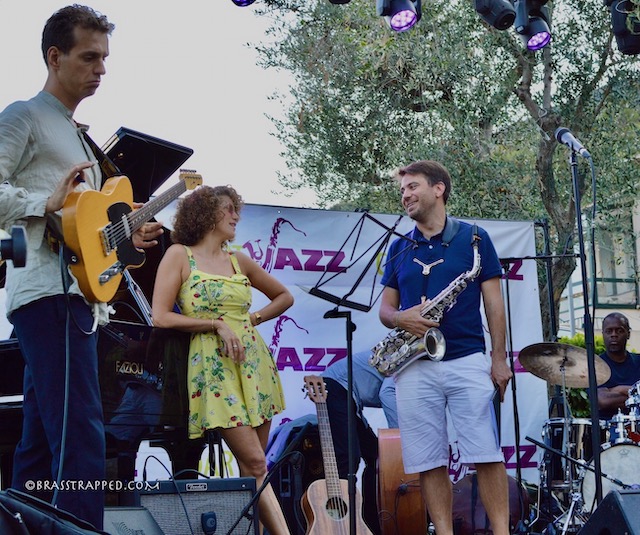 I have not yet mentioned the two amazing concerts except the photo above. But I will.
C'est donc un blog à suivre!
More about CoartJazz at http://coartjazz.fr/
Booking advisable for Lo Castel, and be warned it's a steep walk to the top of the village but well worth it https://www.facebook.com/locastelstefania/
This year I lodged for the week with Claire and Dominique as a house guest at Louthpiecla at Bendejun and cannot praise them more highly. Book through Airbnb https://bit.ly/3AhU0K8
Last year I stayed at the Domaine de la Feuilleraie Chambre d'Hôtes, the home of Nicolas and Nöemie, and wonderful hosts too https://lafeuilleraiechambresdhotes.com/
Car recommended for both above, but good parking is available.
---